By Karina Virahsawmy, Assistant Curator, Alfred Gillett Trust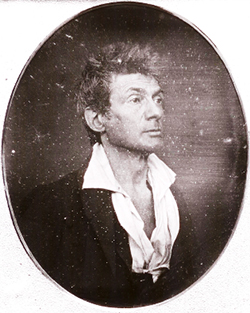 The name Clark is synonymous with all things shoes in Somerset, and indeed internationally. The Clark family, however, had many other creative pursuits and John Clark is the perfect example. A cousin to James and Cyrus Clark, the Quaker brothers who founded C & J Clark International Ltd, John was a well-known and respected gentleman in Bridgwater, and was known to his contemporaries as 'Philosopher Clark'.
Born to Thomas and Mary Metford Clark in 1785 in Greinton, Somerset and the eldest of five children, John moved to Glastonbury once he had finished school. He formed a partnership with his uncle, Joseph Metford in a woollen stocking business and when he was 24, he moved with his parents and siblings to Bridgwater. His father set John up as a grocer and established John's brother Thomas as a bookseller and stationer. However, by 1817 Thomas had taken over the grocers and John had established a printing firm.
When his parents and sisters eventually returned to Overleigh Farm in Street the brothers remained in Bridgwater. They rented accommodation from their Uncle, Joseph Thompson, who ran an ironmonger business named Thompson Bros., and John operated his printing firm from the premises. When the Thompsons reclaimed their house, John moved and later sold his printing business to Frederick Wood, who would later print Clark's updated edition of his booklet about the Latin Verse Machine in 1848.

John was known to be fond of Classical and Romantic poets and wrote a continuation of Lord Byron's 'Don Juan' which was unpublished. His published works include 'The Avalonian Guide to the Town and its Environs' (1810); which ran to several editions and 'Tales of the Convent of St Clair' (1823).
With a keen interest in antiquarianism, John was present at the opening of St. Patrick's tomb in Glastonbury in 1823. He collected stained glass and masonry from Glastonbury Abbey, which he later returned to be re-set in the windows of the Little Chapel of St. Patrick adjoining the Abbey grounds. He also placed a large slab of blue lias stone, Somerset's vernacular building material, on Wearyall Hill.
John spent a lot of his life experimenting with engineering, patenting a solution for waterproofing cloth. It proved to be costly and he later sold the patent to Charles Mackintosh who made it a commercial success by changing the use of expensive spirits such as wine to cheaper methylated spirits. Clark also invented an inflated rubber mattress, the forerunner of the lilo, and was a skilled horologist. One can imagine him having an ever-inquisitive mind, always questioning, trying out new things, and learning how things were put together through experimentation. The Latin Verse Machine was his most ambitious creation. Designed c.1830, it combined all of John's passions – engineering, music, poetry and science.
Noted geologist and friend, Thomas Hawkins (1810-1889) observed that he was, "…one of the few really gifted and clever men it has been my lot to know". He was alleged to be the first male Quaker to relinquish Quaker dress in Bridgwater, favouring a short jacket and short trousers and an open shirt and necktie. His great-niece, Margaret Thompson Sturge described him in her book 'Memories and Echoes' (1904), "Occasionally a very curious man, as he seemed to me, would come to Meeting. He looked like a big boy, for he wore a short jacket and very short trowsers, and his shirt was so open in front that his skin was visible; round his neck was a light blue (or red) necktie. He was the eccentric and clever John Clark, Father's uncle…".
John retired comfortably in Bridgwater on the money from his Latin Verse Machine's exhibition in London at the Egyptian Hall and remained a bachelor until his death in 1853.